Badger Clark (1883-1957)
–The joy is in the journey and not in getting there."


The Badger Hole
There's a cabin in Custer State Park affectionately known as the Badger Hole.
This cabin was home to one of the park's most colorful historic characters.
Charles Badger Clark was honored as South Dakota's first poet laureate. He lived in
the park for the last 30 years of his life. The stories of Badger Clark, his life and poetry are stories of a man living an independent life.
Clark built his home, the Badger Hole, near Legion Lake. Within this cabin, he wrote poetry, read from his extensive library and wrote letters to his many fans. He lived there until his death in 1957 at the age of 74.
Today, the Badger Hole remains much as it was when Badger lived there. As you walk through the doors of the Badger Hole, or wander along the Badger Clark Historic Trail, you walk back into a place and a time of a man who lived and shared a simple life.
The Original Badger Hole
South Dakota nearly lost our beloved poet's first Black Hills cabinBy Shebby Lee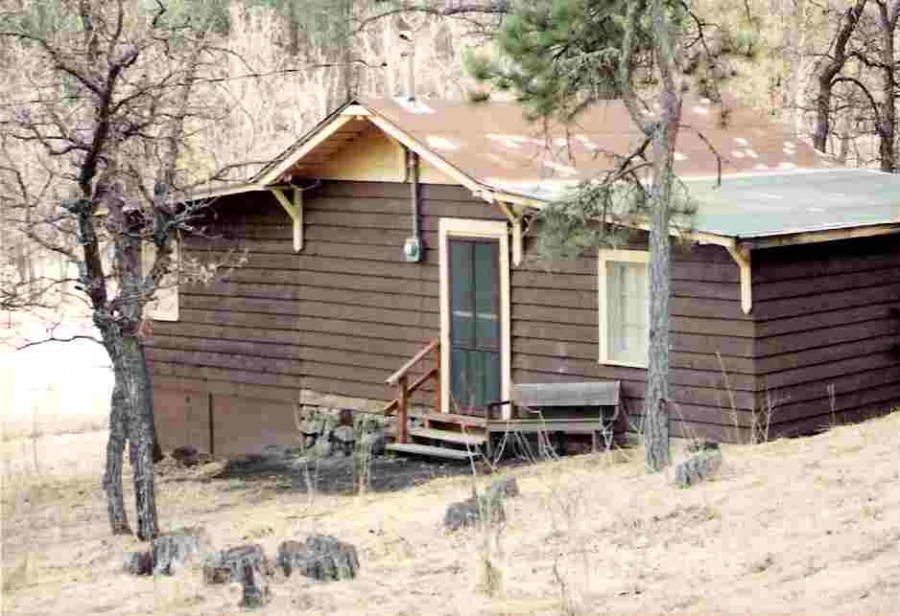 Badger Clark's original Black Hills cabin (shown here) has been rescued by the Badger Clark Memorial Society.
The Badger Hole is missing! The cabin home of the cowboy poet, Badger Clark, located in Custer State Park has been demolished! No, it has not been demolished, it has been moved. But where? And why? Rumors are flying about the former home of beloved cowboy poet, Badger Clark, and it's time to take the wraps off the mystery.
Most South Dakotans know about the state's first Poet Laureate, the charismatic cowboy known as Badger Clark (full name: Charles Badger Clark, Jr.). During the first half of the twentieth century he lived and worked in a cabin in Custer State Park, writing evocative Western poetry and speaking to countless graduates across the state and region. His cabin was known as the Badger Hole, and the Park maintains it today just as he left it, for visitors and school children to visit during the summer season.
But there was another Badger Hole, a one-room cabin that Badger Clark lived in from 1924-1937 while building his permanent four room cabin nearby. Badger Clark did not build that little cabin and never actually owned it. After his tenure, it was moved, changed hands many times, was added on to, and eventually ended up in the hands of the Badger Clark Memorial Society, which used the wings for a caretaker's residence and storage, while returning the original central room to the way it looked when Badger Clark lived there.
In recent years the wings of the older cabin became unstable and the Park added it to its list of surplus property slated to be torn down. This triggered a frantic effort to save the edifice - or at least the original central portion - as a piece of South Dakota history. After many months of negotiations, an agreement was reached between Custer Park and the Badger Clark Memorial Society under which the Park agreed to demolish the wings, if the Society would move the main cabin out of the Park.
The Society set about finding a suitable location where the cabin could not only be preserved but serve an appropriate role. The Park upheld their end of the bargain and prepared the cabin to move, but negotiations with various entities for the cabin's new home were inconclusive. So Society Vice President Paul Jensen of Wasta, arranged to have the cabin removed from the Park without a definite place for it to go. Society member Dorothy Delicate of Custer offered her land as a temporary resting spot, but somehow it never got there.
Enter Linda Flounders, owner of the historic Newton Fork Ranch, located on Deerfield Road, 1/2 mile from Hill City's Main Street. Linda is slowly restoring the 18 acre property comprised of six full round log cabins built in 2000, a large picnic shelter plus her grandparents' 1912 home. Her grandmother was a prolific writer, albeit unpublished, and her uncle Paul Lippman, from whom she purchased the property, was a published writer and held several workshops on the property in the 1980s. Writing is obviously highly revered in her family. When Linda built the cabins at Newton Fork Ranch, it was with the intention of creating a writers retreat. As such, the cabins do not have telephones or television sets. Linda has placed the original Badger Hole on an undeveloped lower portion to the ranch property along the Mickelson Trail and incorporate it into her writers retreat.
Why all this fuss over a dilapidated old shack? Well, for one thing history was made there. Not only was it the home of South Dakota's first Poet Laureate for 13 years, but his first book of poetry on South Dakota subjects - Skylines and Woodsmoke - was written there. Badger Clark also wrote prose, including contributions to the South Dakota Writer's Project, a Depression-era compendium which was almost certainly written while residing in that one-room cabin. His letters to the Editor were frequently printed in Hills papers, and his poetry was published in national magazines such as Scribner's, Outing, Arizona Highways, Sunset, the Pacific Monthly and South Dakota Poetry Society's Pasque Petals, during this period.
The cabin is a part of South Dakota history. After a season of drift it has finally found a home. (...)
(...) Already a well-known and well-liked character by the mid-thirties, Badger received permission to build a cabin on state-owned land in Custer State Park. The game preserve was a natural for this early conservationist, who despite his cowboy background, never could bring himseIf to hunt or fish. The cabin was five years in the building, and became one of the strangest "hermitages" ever devised by man.
Foto cortesía de Dakota del Sur Sociedad Histórica del Estado
Although a lifelong bachelor, Badger Clark was a very social animal and the four room cabin with a front porch stretching the entire width of the building, was expressly designed for entertaining. And as he had hoped, a steady stream of friends and admirers made the long trek into the wilderness to listen to his adventures in Cuba or tales of his life on the disappearing range.
Though the cabin was large for one person, including an entire wall of bookshelves for his insatiable mind, space was its only luxury. The living room was heated by a stone fireplace, the kitchen by a wood cookstove, and the bedrooms, not at all. There was no running water and kerosene lamps lit Badger's typewriter.
"The Badger Hole" became Badger' s first permanent home and remains today, a South Dakota Historic Landmark, just as he left it for his final trip to the hospital in September of 1957.
Badger Clark lived a long and productive life which should not be appraised by literary output alone. The poems are good on the whole; one or two perhaps will be judged by time to be great. As a body, they evoke a time and a way of life in the great West which is lost to us forever and which he had the great good fortune to experience first hand. There are three volumes of poetry (one printed posthumously) , a novel, and numerous articles and pamphlets - not an impressive sum for an entire lifetime. But to condemn Badger Clark for his apparent lack of industry would be a mistake. He was far less interested in writing than in studying, caring for his tame deer, cultivating his many close friendships and, most importantly, enjoying the great out-of-doors. (...)
(

http://www.badgerclark.org/biography.htm

)
http://www.sdpb.org/BadgerClark/default.aspx
http://keloland.com/news/NewsDetail6373.cfm?ID=19142
http://southdakotamagazine.com/article?articleTitle=the+original+badger+hole--1308085797--89--history