Eugene O'Neill (1888-1953)
Eugene O'Neill with his wife and daughter in Cape Cod, 1922.
Fuente The New York Times photo archive. Autor Not given
O'Neill with his second of three wives, Agnes, and their later disinherited son Shane on a beach on Cape Cod. Courtesy of George Meredith.
Eugene Gladstone O'Neill (Nueva York, 16 de octubre de 1888 - Boston, 27 de noviembre de 1953) fue un dramaturgo estadounidense, Premio Nobel de Literatura y cuatro veces (una de ellas de modo póstumo) ganador del Premio Pulitzer.
Más que cualquier otro dramaturgo, O'Neill introdujo un realismo dramático que ya habían iniciado Antón Chéjov, Henrik Ibsen, y August Strindberg en el teatro estadounidense. En general, sus obras cuentan con personajes que viven en los márgenes de la sociedad, y que luchan por mantener sus esperanzas y aspiraciones, aunque suelen acabar desilusionadas y cayendo en la desesperación. Explora en las partes más sórdidas de la condición humana.
Eugene O'Neill and the Provincetown Players
In a building that no longer exists upon a cliff taken by the unrelenting sea, a young play-wright penned the first act of what would become modern American theatre. The building was the former Peaked Hill Bars Lifesaving Station. The cliff stood where the easternmost dunes of Provincetown meet the Atlantic Ocean. And the playwright was Eugene O'Neill.
O'Neill arrived at Provincetown Harbor by ferry from Boston in the summer of 1916, after some years of wandering. Earlier, as a seaman he journeyed from port to port, trying to find himself. Though directionless, broke, and many times drunk during those youthful years of his early 20s, he had been writing, drawing on his own experiences in foreign ports at sea for his inspiration.
New York producers had turned down O'Neill's early works, claiming that they did not follow the formula of contemporary plays. Yet, O'Neill heard talk of an experimental theatre troupe in the fishing village of Provincetown.

During the summer months this Cape Cod village, located at the farthest and

sandiest reaches of the civilized world, was frequented by a group of Greenwich Village bohemians - among them writers, artists, actors, journalists, activists, anarchists, and Communists - all sharing ideas on issues of the day as well as on the literary and visual arts. They promoted a controversial lifestyle of free love, open marriage, public drinking, and creative expression.
So, O'Neill decided to take his talents to Provincetown, following a singular path that would eventually earn him four Pulitzer Prizes and a Nobel Prize for Literature. Broke, he arrived at Commercial Street with the promise that his life's mission was to become a playwright, or to starve in the attempt.
The summer before O'Neill's arrival was a revolutionary turning point in American theatre. In fact, the revolution had a precise date, time, and location, and strangely it did not take place in a theatre setting, but instead in a Provincetown home.
On the evening of July 15, 1915, beginning around 10 o'clock at the 621 Commercial Street cottage of Neith Boyce and her husband Hutchins Hapgood, Boyce's one-act play Constancy was performed by a group that would go on to call itself the Provincetown Players. The evening's entertainment also included a play entitled Suppressed Desires, written by the husband-and-wife team of George Cram "Jig" Cook and Susan Glaspell, who had arrived at Provincetown from lowa, by way of Greenwich Village. Like the others present on that July evening, Cook and Glaspell found themselves at the land's end, where their artistic creativity was allowed to reach for new horizons.
These early plays, and those to follow, flew in the face of traditional theatrical productions. The Provincetown Players' dramas and comedies were performed entirely for art's sake, without the slightest concern about revenues or reviews.
According to author Leona Rust Egan, in her book Provincetown as a Stage: "No one got paid. The money was raised only to cover production costs - scenery, lighting, seats, curtain, and costumes. The most expensive production was less than $13."
The plays examined not only social issues but also the intimate private lives of the playwrights themselves, as well as their friends and lovers. For instance, Constancy was a stage treatment of the romance between playwright/journalist/ activist John Reed and socialite Mabel Dodge, while Jig Cook's Change Your Style lampooned the friction present in Provincetown's art scene between the traditional and avant-garde schools. This production and Contemporaries by play-wright Wilbur Daniel Steele were performed later that summer in a converted fish hous e at Lewis Wharf on Provincetown Harbor - the troupe's new home, courtesy of its owner, author Mary Heaton Vorse. These amateur productions exhibited a unique form of free expression and ignited a flame that burned throughout the following winter in Greenwich Village as the Players, headed up by Cook, planned for the next summer season.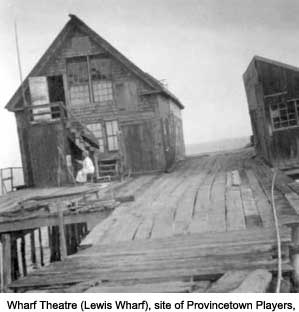 Yet, it was the arrival of Eugene O'Neill that took the troupe to a whole new level. At the insistence of Neith Boyce, O'Neill presented his one-act play Bound East for Cardiff to the Provincetown Players. During its initial reading at the horne of Cook and Glaspell, O'Neill remained in another room, too sensitive to hear his work read aloud. The groups reaction was overwhelmingly positive, as they instantly recognized it as the work of genius. It represented the kind of revolutionary drama they wished to perform.
Bound East for Cardiff examined the plight of seamen aboard an ocean-going steamer amidst a foggy sea. One of the crewmen, Yank, injured in an earlier accident aboard the vessel, lingers near death. He and other crewmen reexamine their lives and their decision to pursue a life on the ocean. In the end, Yank succumbs to his injuries. Unlike traditional theatre,

O'Neill's work is an introspective look at life that borrows

heavily from his own experiences at sea. As Egan wrote: "Its mood recaptured O'Neill's dreary homeward voyage to New York from Buenos Aires on the Ikala, a British tramp steamer."
Opening night for Bound East for Cardiff was a magical moment in theatre - a unique synergy between content and environment that happens only in rare circumstances. On that damp July evening, a fog settled upon Provincetown Harbor in much the same way as fog enveloped the characters of O'Neill's play. With the sound of waves lapping against the wharfs pilings below the floorboards, and the distant call of the foghorn from Long Point Light, the audience was instantly transported to a sea setting. That, along with a scantily decorated stage that made good use of the building's rustic design produced an unforgettable theatre experience.
"The sea has been good to Eugene O'Neill," wrote Susan Glaspell years later. "It was there for his opening. There was the fog, just as the script demanded, fog bell in the harbor. The tide was in, and it washed under us and around, spraying through the holes in the floor, giving us the rhythm and the flavor of the sea ..."
Of the building, Glaspell wrote: "It was not merely figurative language to say the old wharf shook with applause."
Bound Eastfor Cardiff was a success for its young playwright, launching a lengthy career ihat would include such works as Beyond the Horizon, Anna Gristie, The Ice Man Colmes, Desire Under tbe Elms, and A Long Day's Journey Into Night.
Other plays of "that remarkable" 1916 summer season included O'Neill's Thirst, Boyce's Winter's Night, Louise Bryant's Tbe Game, and John Reed's Eternal Quadrangle (about the true-life Reed - Bryant - O'Neill love triangle). An important production was Glaspell's Trifles. Though a successful novelist and journalist, the future Pulitzer Prize winner became a reluctant playwright in order to appease her husband, who as head of the troupe was in need of new plays. Initially claiming that she did not know how to write a play, Glaspell cast back to her days as a journalist to write a play about the true case of an lowa housewife who killed her abusive husband. The result was Trifles, regarded today as a staple of American theatre.
After the 1916 summer season the Provincetown Players moved to Greenwich Village. Upon arrival, they set up the Playwirght's Theater on MacDougal Street with the announcement: "The present organization is the outcome of a group of people interested in the theater, who gathered spontaneously during two summers at Provincetown, Mass., for the purpose of writing, producing and acting their own plays," according to Vorse's book, Time and the Town. Their mission was to establish a stage where playwrights of sincere, poetic, literary and dramatic prose could see their plays in action and superintend their production without submitting to the commercial manager's interpretation of public taste."
The Provincetown Players never again performed in their namesake town, and their theater at Lewis Wharf eventually fell into disrepair and crumbled into the waters of the harbor.
In the mid-1920s, local theater returned to the Cape tip when Frank Shay and Mary Bicknell teamed with such personalities as O'Neill and Raymond Moore to stage productions in an abandoned movie house. The following summer the group split, with some performing in Shay's barn as the Barnstormers, while others followed Bicknell to form the Wharf Theater. Shay's group was more in keeping with the philosophies of the Provincetown Players. According to Egan, "The Wharf Theater staged conservative fare, while Frank Shay's Barnstormers produced more robust and shocking plays."
Raymond Moore left the Barnstorrners to start the successful Cape Playhouse in Dennis. Meanwhile, the Wharf Theater remained in operation until 1941 when it was destroyed by a winter storm.
As for Eugene O'Neill, he spent nine years in Provincetown, where he became a husband, a father, and owner of the retired Peaked Hill Bars Lifesaving Station - his seaside home. Erosion later claimed the former station, causing it to tumble over the cliff in dramatic fashion to the beach below, symbolically closing the curtain on this unique period in Provincetown's history.
This article appeared in the August 2005 edition of "Cape Cod Life".
SwissEduc would like to thank "Cape Cod Life" and Jack Sheedy for the copyright.
World Famous Provincetown Playhouse - Home of Eugene O'Neill's Plays. Cape Cod. Massachusetts (MA)
(http://www.cardcow.com/share.php?id=247808)
http://www.ritmodominicano.com/wiki.php?title=Eugene_O%C2%B4Neill
http://www.eoneill.com/library/review/28/28i.htm
http://muchoteatro-lmmr.blogspot.com/2008/03/biografa-y-obras-de-eugene-o-neill.html
http://www.biografiasyvidas.com/biografia/o/oneill.htm
http://www.swisseduc.ch/english/readinglist/oneill_eugene/about/provincetown.html